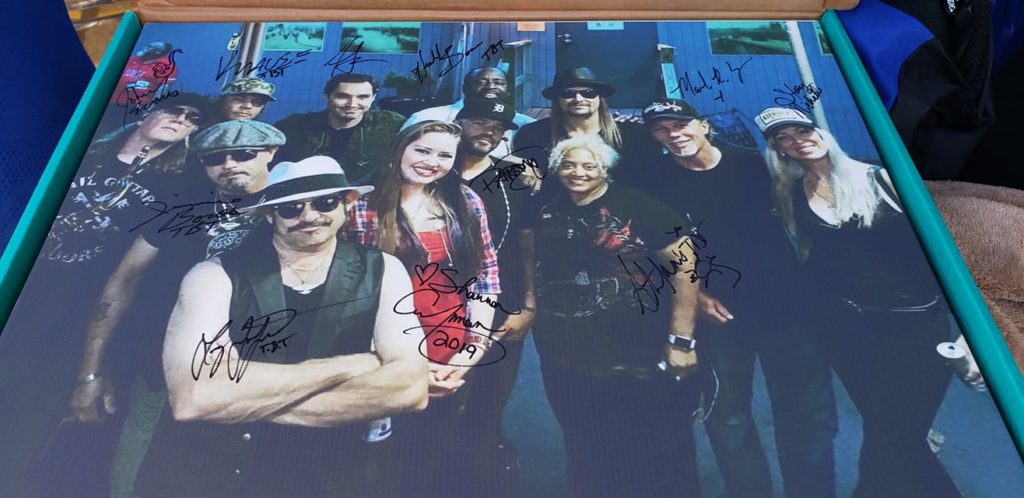 Officially exhausted but we had a successful weekend at DTE - thank you Kid Rock Family for all the love you showed the KRLL - we do have some gift bags left - if you would like us to mail one to you - they are a $5 donation and please add $3.50 for shipping. Paypal kidrocklifeline@gmail.com - via friends and family - please put your address in the notes and please say "gift bag." Some packages will come with a free tshirt!
Part of our fall raffle will include a TBT basket. This basket will include items from the band including this one of a kind 16*20 canvas autographed by the entire band! KRLL hasn't chosen the charity that will benefit from this special raffle as of yet so stay tuned... Special thanks to Cat Dracht, Larry Fratangelo, Tina Marie, and Amy Green for securing this especially for KRLL.
Help us celebrate our 8 year anniversary! Working on a new video of what we have done and how we can continue to help fans!
Please don't forget the quilt raffle - it is closing on 9/21! If you bought the minimum 5 slots you can get more as we have removed the minimum requirement.
Also please join our community - it is a closed group - so it's a private place for you to ask for prayer if you need it.
https://www.facebook.com/groups/KidRockLifeLine/?ref=bookmarks
Please follow and like us: